kerk
kerk
The church is a late-gothic hallchurch with three aisles; the south aisle together with the nave lies under one roof.
The church floor has been raised, most probably to create more space for graves. Because of that the bases of the pillars have disappeared under the present church floor.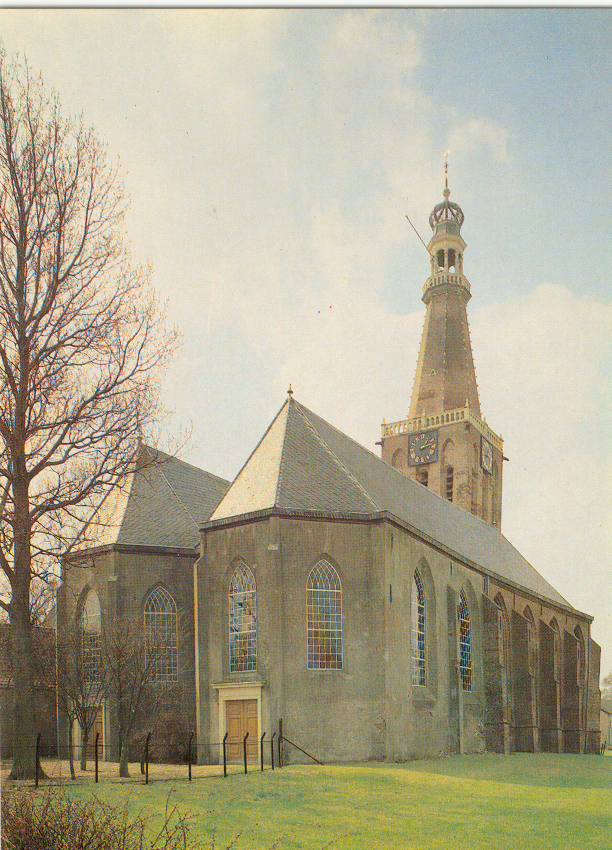 In 1866 the church was shorthened by approximately 20 metres because of the deteriorating condition of that section. Both choirs, located at the eastside, as well as the extension at the northside, have been pulled down.
Eight stained-glass windows, which were mounted in the choir, have disappeared.It is known that one of these windows is in a country house on the island of Guernsey.

In 1902 the church again was renovated and the walls plastered with Portland cement.
A problem for the church was the enormous saline content in the walls. Every plaster coating came off sooner or later.
Only the Portland cement appeared to be durable. However a consequence of this was a very gloomy church interior.
In 1991/93 the church was renovated again. Roof and gutters were entirely renewed; parts of the wooden rafters were replaced and the north-eastern outerwall was rebuilt. This was the same part of the church that had been demolished in 1866. The wooden structure was badly affected by the dampness inside the church as well as to the devasting work of the "death-watch beetle" (a multicolor gnawing bug). The old plaster coating, where it came off, was replaced by a modern coating of plaster which is highly permeable to water. The church has also been equipped with a central heating system
The interior of the church
terug